VENICE BEACH, Calif.—Homeless encampments outside of the Abbot Kinney Memorial Branch Library were a cause of concern for organizers of the Herbalife24 Los Angeles Triathlon on May 15, as thousands of athletes and spectators participated in the 22-mile course that stretched through parts of Venice.
The encampments popped up outside of the library after officials cleared out tents and placed 56 people into housing from Westchester Park in November 2021 as part of a collaboration with Councilman Mike Bonin called the "Encampments to Homes" plan.
Residents have been complaining to city officials that drug dealing and assaults are common in the encampments.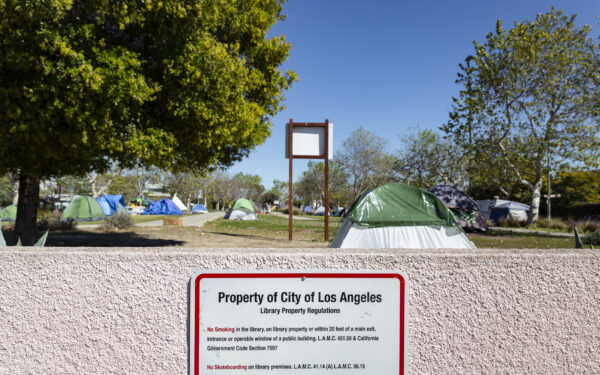 Videos uploaded to Twitter on the morning of the triathlon showed cyclists passing by the encampments, and another video showed a violent altercation between transients living in the tents.
The course was created in 2017 by Herbalife24 Triathlon LA Race Director Brennan Lindner, who has been a resident of Venice since 1996 and serves on the Venice Chamber of Commerce. Lindner said he's seen a drastic change in the community since he moved in.
In preparation for the race, Brennan said he contacted state officials and local leaders—including Councilman Bonin, whose District 11 encompasses Venice Beach, LA Mayor Eric Garcetti, and LA County Supervisor Sheila Kuehl—and Discover LA, a travel media offering tour guides online, "pleading for support" to clean up encampments along the course of the marathon, such as the 405 freeway underpass. He did not receive a response.
"I look at it more from a Venice resident's perspective for quite a long time," Brennan told The Epoch Times. "And it's been frustrating when I look at it through the lens of how we've been pleading for assistance, whether it's housing, mental health, and just keeping our streets safe, there's a lack of response to all of us residents."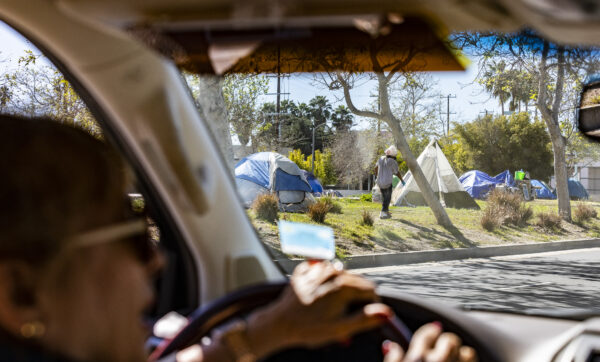 Brennan said there were mounds of trash in the 405 freeway underpass, which was cleaned up earlier in the week, but organizers put up "privacy screens" to block the broadcast from seeing the encampments. They requested help from officials to help foot the bill, but the city declined to do so.
"Because it's disgusting, not the people—they need help. But the only way they know how to take care of themselves is with the hoarding or grabbing all the stuff that they can be using," he said.
Bonin's office did not respond to a request for comment by press deadline.